501
gateaux de Sacher manchés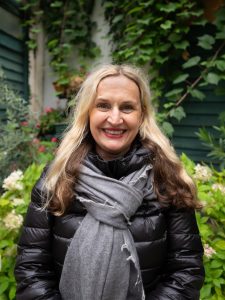 Guide francophone privée depuis cinq ans, j'aime passionnément mon travail. Je suis née et j'ai grandi à Vienne où j'y ai également fait mes études à l'Université de Vienne (Licence en Tourisme et Linguistique). Après l'obtention de mon diplôme, j'ai eu un travail très amusant en tant qu'hôtesse de l'air pour la compagnie Austrian Airlines. J'ai été par la suite contaminé par le virus du voyage et j'ai également appris que je m'épanouissais en travaillant dans un environnement international et multiculturel.
Trois couples de Français habitués à visiter une capitale chaque année et qui sont toujours à la recherche d'un ou d'une guide parlant parfaitement le français.
Rare et difficile à trouver.
Enfin, j'ai pu découvrir, Susanne, en parcourant son site internet. Nous avons beaucoup échangé par mails et étudié deux circuits de visites personnalisés durant notre séjour touristique à Vienne.
L'HISTOIRE, les Palais, l'Opéra , la Musique, la Peinture …..nous avons beaucoup appris et surtout retenu , et même quelques épisodes de la petite histoire dans la Grande Histoire.
Vraiment, n'hésitez pas à contacter Susanne ,vous ne le regretterez pas.
Merci encore, Susanne, pour nous avoir permis de mieux connaitre votre Histoire et votre capitale Vienne.
Xavier, Annie, Jacques, Christine, Gianni, Sylvaine
Xavier
Susanne est la meilleure guide que j'ai eue jusqu'à maintenant.  Elle est très intelligente et est
très bien informée.  Elle est à l'écoute des préférences des visiteurs et n'hésite pas à
suggérer des options d'itinéraires qui leur conviennent d'avantage.
Susanne adore Vienne et la connaît comme le dos de sa main.
Si vous allez à Vienne un jour,  et que vous cherchez une guide, je recommande fortement
Susanne.  Vous ne le regretterez pas.
Nous avons visité la veille ville pendant 3h avec Susane, qui parle très bien français et qui a une réelle passion pour sa ville. Nous avons bien aimé aussi la petite pause autour d'un vrai café viennois.Vienne est une très belle ville avec une architecture exceptionnelle.
Our tour was absolutely excellent, full of varied and interesting information that was carefully selected and prepared. The four hour tour remained stimulating and interesting and was a real highlight of our stay in Vienna. I was taking the tour with my 82 year old mother and Suzanne was thoughtful and considerate making everything as easy for her as possible. I would have no hesitation in recommending Suzanne to anyone wishing to learn about history and art in Vienna.
Not only was the tour wonderful it was especially helpful to have Susanne as a private guide in the museum. She gave us much more understanding of the art, the period and the connections between periods. Susanne was delightful and even gave us some help with a medical problem one of us had. Highest recommendation
Susanne was a wonderful guide to Vienna. She was extremely knowledgeable about art and history (our particular interests), energetic, attentive, helpful and warm. We are very happy she was our guide to this beautiful city!
Jewish history of Vienna is a very delicate topic that many tour guides try to avoid. Susanne does a wonderful job in highlighting this important part of Vienna's past! She was very knowledgeable and thoughtful. I was visiting Vienna with my young daughter and my goal was to share the history of the city with her while highlighting the impact the Jewish community has made on it over many centuries. Susanne was able to accomplish this goal with excellence. We are very grateful for such wonderful experience
Susan is very positive and has good understanding to The need and interest I have on my visit to Vienna . She is one of the best I can recommend to my friends who Will visit Vienna .
Susanne, our tour guide around Vienna was superb. She was very well informed and delivered an insight in to the history; culture and fascinating sights in a truly professional manner. She was very personable and a delight to be with. We would highly recommend her as your tour guide.
Susanne's knowledge of the subject matters was excellent and the diversity of the tour (museum, market, highlights along the way) was appreciated. She provided us with follow up material to read or watch on the subject matters we were interested in and we really appreciate her attention to details and our wishes. Of yes, she is very personable and considerate as we ranged in ages from 58 to 80. Highly recommend her!!
Our tours were outstanding with Susanne. She is knowledgeable about history, art, Jewish Heritage etc. It was a real learning experience and Susanne was delightful to be with. We are so pleased and will recommend Toursbylocals and Susanne to friends.
If there would have been a six star rating, Susanne would have deserved it all the way ! She is this very special guide who walks the extra mile with pleasure, like: sending beforehand a whole list of links and ideas (movies, music, Youtube interviews, books, …) so one can prepare for the tour properly/extensively; adding extra hidden gem ideas to improve even thisbr brave tour; informing if her guests returned safely home… She actively involved the youngsters in the tour. She is most recommendable !
BEST DAY of our trip! It started with a scenic drive outside of the city on our way to the picturesque Wachau Valley. After an apricot danish in the town of Krems we saw several other quaint towns, and miles of miles of vineyards on our way to our lunchtime cruise down the Danube River and then ended up in the town of Melk and a tour of the Melk Abbey. Susanne planned a simply perfect day – one we won't forget for quite some time! This was a 10 star tour!