500
Sacher cakes eaten & 5 kilos gained
Private Sightseeing Tours with Susanne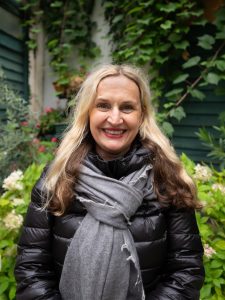 I have been a private tour guide for over ten years and I passionately love my job. I was born and raised in Vienna where I also attended Vienna University (Masters Degree in Tourism and Linguistics). After graduating I had a very fun job, I worked as a flight attendant for Austrian Airlines. I really got infected with the travel bug, and also learned that I thrive when working in an international environment.
Ratings from previous guests
We had Susanne guide us through many of Vienna's art collections over three days. During two previous Vienna visits we had seen many of the collections on our own, but Susanne added a different and knowledgable perspective to our viewing on this visit.
We also altered our planned itinerary after Susanne understood our tastes in art and design.  Her suggestions turned out to be some of our visit highlights. 
Although our primary interest was in limited artist Susanne was able to explain the history of collections and institutions which added much to our appreciation of what we were seeing.
When we return we would know having Susanne as a guide would be a "must" in our visit.
Nautalus:  I had read the reviews of other Vienna fish restaurants and they sounded as if they were totally tourist oriented.  We found Nautalus to have more of a local feeling, if fact I think we were the only tourist in the very busy restaurant.  The food and service were A+.
Plachutta zur Oper: I had suggested to our friends that we take them to dinner here.  My friend's response was that it was only tor Russian oligarchs!  We went, alone, and did indeed sit next to Russians but had an excellent veal schnitzel.  The highlight was that it was white asparagus season (my favorite) and it was served to perfection. Highly recommended.
Zum Weissen Rauchfangkehrer:  Great meal, white asparagus again with more schnitzel.  Again highly recommended.
Zum Figmuller was our friend's choice for dinner.  There was a huge crowd waiting for a table, but they had a booked table.  Interesting that the schnitzel was pork and not veal.  I think they like the prices better than our choices.  We found it OK.
On Friday we visited the English guided tour of the Burgtheater.  Afterwards our friends took us to Cafe Landtmann for coffee and pastries. Seems to be a Vienna tradition and my Esterhazy Torte lived up to my expectations.
Our tour was absolutely excellent, full of varied and interesting information that was carefully selected and prepared. The four hour tour remained stimulating and interesting and was a real highlight of our stay in Vienna. I was taking the tour with my 82 year old mother and Suzanne was thoughtful and considerate making everything as easy for her as possible. I would have no hesitation in recommending Suzanne to anyone wishing to learn about history and art in Vienna.
Not only was the tour wonderful it was especially helpful to have Susanne as a private guide in the museum. She gave us much more understanding of the art, the period and the connections between periods. Susanne was delightful and even gave us some help with a medical problem one of us had. Highest recommendation
Susanne was a wonderful guide to Vienna. She was extremely knowledgeable about art and history (our particular interests), energetic, attentive, helpful and warm. We are very happy she was our guide to this beautiful city!
Jewish history of Vienna is a very delicate topic that many tour guides try to avoid. Susanne does a wonderful job in highlighting this important part of Vienna's past! She was very knowledgeable and thoughtful. I was visiting Vienna with my young daughter and my goal was to share the history of the city with her while highlighting the impact the Jewish community has made on it over many centuries. Susanne was able to accomplish this goal with excellence. We are very grateful for such wonderful experience
Susan is very positive and has good understanding to The need and interest I have on my visit to Vienna . She is one of the best I can recommend to my friends who Will visit Vienna .
Susanne, our tour guide around Vienna was superb. She was very well informed and delivered an insight in to the history; culture and fascinating sights in a truly professional manner. She was very personable and a delight to be with. We would highly recommend her as your tour guide.
Susanne's knowledge of the subject matters was excellent and the diversity of the tour (museum, market, highlights along the way) was appreciated. She provided us with follow up material to read or watch on the subject matters we were interested in and we really appreciate her attention to details and our wishes. Of yes, she is very personable and considerate as we ranged in ages from 58 to 80. Highly recommend her!!
Our tours were outstanding with Susanne. She is knowledgeable about history, art, Jewish Heritage etc. It was a real learning experience and Susanne was delightful to be with. We are so pleased and will recommend Toursbylocals and Susanne to friends.
If there would have been a six star rating, Susanne would have deserved it all the way ! She is this very special guide who walks the extra mile with pleasure, like: sending beforehand a whole list of links and ideas (movies, music, Youtube interviews, books, …) so one can prepare for the tour properly/extensively; adding extra hidden gem ideas to improve even thisbr brave tour; informing if her guests returned safely home… She actively involved the youngsters in the tour. She is most recommendable !
BEST DAY of our trip! It started with a scenic drive outside of the city on our way to the picturesque Wachau Valley. After an apricot danish in the town of Krems we saw several other quaint towns, and miles of miles of vineyards on our way to our lunchtime cruise down the Danube River and then ended up in the town of Melk and a tour of the Melk Abbey. Susanne planned a simply perfect day – one we won't forget for quite some time! This was a 10 star tour!